Accommodation: Apartmani i sobe Djukic
Tivat, Montenegro
category
category
category
Number of views: 289743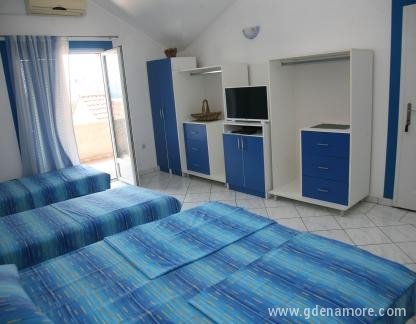 Apartment:
Room:
Studio:
Whole object
This facility is only 3km from the city center, 10 min walk to the beach and the 1.6km of us is the most beautiful sandy beach, which is especially suitable for children, from the airport we are 800m and 1.5km from the bus station, we offer a service to their guests from / to the airport or bus.

Apartments and rooms Đukić are newly equipped, cleanliness and hygiene is at the first level, in the evening on the terraces will feel unusual combination of sea and mountain air, the whole building is air-conditioned, sweet and hot water is available 24 hours, apartments and rooms include a terrace or balcony.

Everything in the building include air-conditioning, refrigerator, closet, kitchen, bathroom, TV with cable channels, a free high-speed wireless internet, free and secure parking.

Apartments and rooms Đukić offer a warm welcome.
Legend:
All rooms, apparments
Some rooms, apartments
No
Capacity:

apartmani i sobe

Seaview:
Water 24h:
Bathroom:
Kitchen:
Room service:
Safe box:
Large terrace:
Balcony:
Air conditioning:
TV:
Cable TV:
Internet:
Telephone in the room:
Parking:
Garage:
Pool:
Suitable for children:
Pets allowed
Suitable for disabled people:
Characteristics of accommodation
Legend:
All rooms, apparments
Some rooms, apartments
No
Capacity:

apartmani i sobe

Seaview:
Water 24h:
Bathroom:
Kitchen:
Room service:
Safe box:
Large terrace:
Balcony:
Air conditioning:
TV:
Cable TV:
Internet:
Telephone in the room:
Parking:
Garage:
Pool:
Suitable for children:
Pets allowed
From the center:

3000 meters

From the beach:

1000 meters

From bus station:

1300 meters

From airport:

800 meters
From ambulance:

3500 meters

From restaurant:

50 meters

From sports fields:

250 meters
Prices and payment options
Payment options:
Cache:
By bank transfer:
Credit cards:
05/03/2017 - 06/10/2017

7 per person

06/15/2017 - 08/31/2017

8 per person

09/01/2017 - 10/10/2017

7 per person
Updated: 08/24/2021
Powered by GdeNaMore.com